Railway market
IT'S 11.30am on a Saturday and trade at Maeklong Railway Market is in full swing. Shoppers jostle for space and duck under awnings as they make their way between stalls loaded with ripe mangoes, fiery chillies, salted mackerel. They must carefully watch their steps, because on the ground are large sheets laden with vegetables, herbs, and even huge chunks of marlin. As far as food markets in Thailand go, it's a familiar scene. But this familiar scene is about to be disrupted in the most amazing way – a train is about to run through it.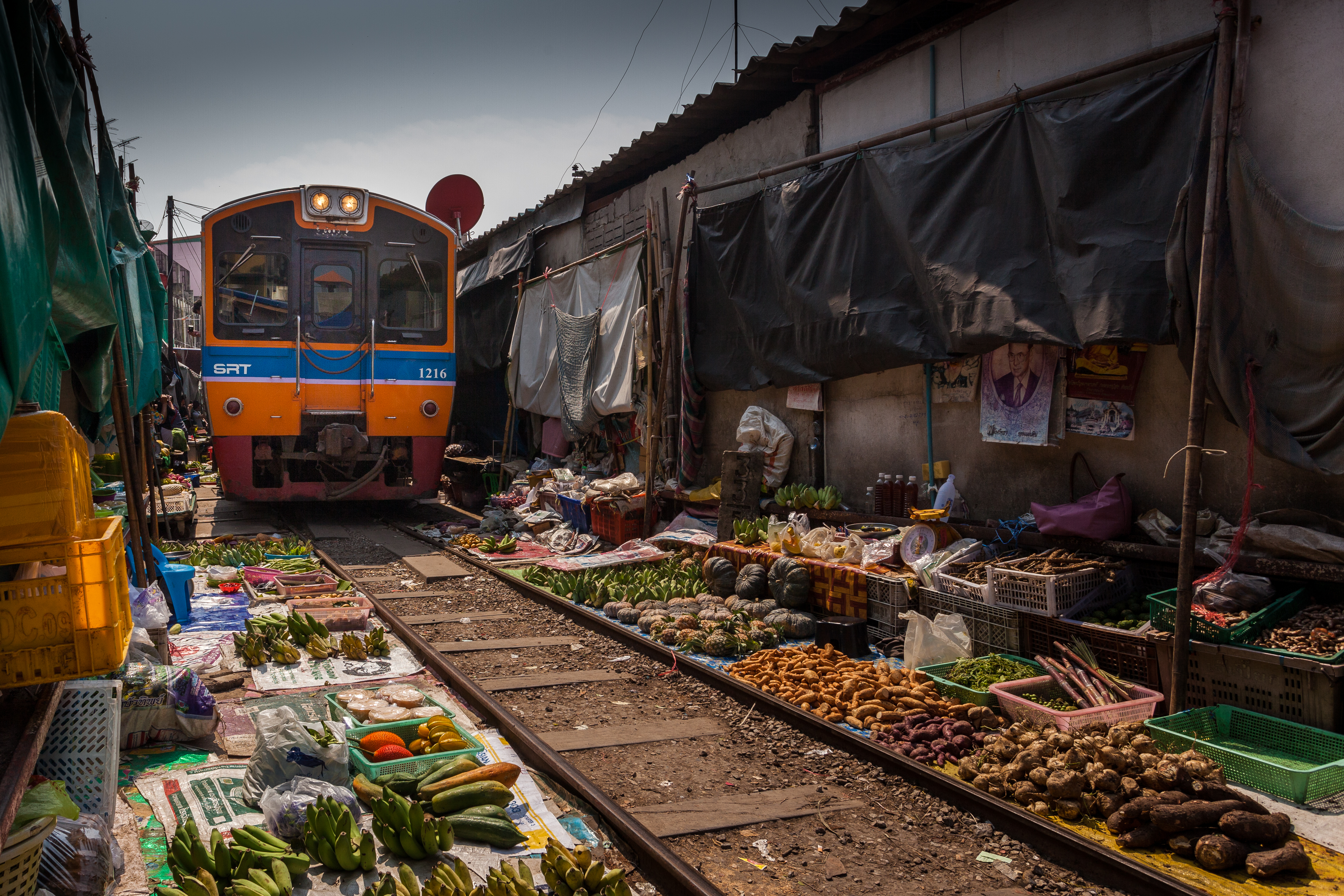 A siren blared from Maeklong station, located at the market's entrance, cuts through the bargaining din and signals the train's imminent arrival. A guard waves red and green flags and gives shrill blasts of his whistle. With military precision, the vendors leap into action and pull down their awnings. Sheets of veggies are pulled back just enough so that they're clear of the track, and shoppers edge deeper into the safety of the stalls. The track, which was moments before a narrow shaded walkway, is now bare and bathed in sunlight.
The train enters the far end of the market with a sharp blast of its horn. It trundles slowly past the stalls, close enough to almost slice and dice some of the vegetables, and the vendors simply watch on impassively; they've seen it all before. For foreign health and safety advocates, it's their worst nightmare come true; for everyone else, an amazing photograph opportunity.
The Maeklong Railway Market, also known by the Thais as Talad Rom Hoop – which, roughly translated, means "pull down the awnings market" – has been in operation since 1984. Located in Samut Songkram province on the railway which runs between Maeklong and Baan Lam, it is disrupted eight times a day by trains (four arriving, four departing). Not that these disruptions last long – as soon as a train passes through the market the awnings are snapped back up and trading resumes.
While there's little else for tourists to do at Maeklong Railway Market other than watch and photograph the train's amazing arrival and departure, just across the Maeklong River is Amphawa, home to a superb weekend floating market where you can enjoy food prepared on boats, sip drinks in rustic-retro bars, go on boat trips to watch fireflies, and shop from a wide range of local crafts.
Located only 70km away from Bangkok, Amphawa market packs in large crowds of Thai tourists every weekend. Go beyond the main shopping area though and everything is wonderfully subdued, with village life playing out just as it has for centuries — fishermen tending to their nets, small stalls selling local produce.
A range of lovely guesthouses are dotted around the area, with something for every budget. It's best to search online for riverside guesthouses which offer free boat trips to and from the market, though, as this will save you cash and makes getting around much more convenient.
Comments
comments